Excelsior Award White 2022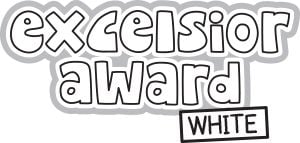 The books on the Excelsior Award White shortlst have been designated as suitable for children aged 9+ (or Key Stage 2 in schools)
Click on the book's title for extra information
In the Night Realm, vampires, shifters, weirns, and other night things passing for human prowl the streets... but they still have to go to school! Ailis and Na'ya are pretty average students (NOT losers), but when a shadow starts looming and a classmate gets all weird, they are the first to notice. It gets personal, though, when Na'ya's little brother D'esh disappears! It's time to confront the secrets of the forbidden mansion in the Silent Woods!
Join the acclaimed author of Awkward, Svetlana Chmakova, for an outing into her favourite fantastical world full of magic and adventure!
Writer: Svetlana Chmakova
Artist: Svetlana Chmakova
Published by Yen Press
ISBN-13: 978-1975311223
Eve spends an idyllic childhood of long summer days with her sweetheart Tom, and together they dream of exploring the world. But that dream is soon shattered as she comes of age. The mysterious Bluebeard is looking for a new bride and has his sights set on Eve, and rumor has it that his former wives have all disappeared. What will Eve find in the castle beyond the enchanted forest? A forbidden chamber, a golden key and the most terrifying secret, take on a new life in this gothic graphic novel.
Writer: Metaphrog
Artist: Metaphrog
Published by Papercutz
ISBN-13: 978-1545804124
Join Paranormal Investigator Mason Mooney as he tackles ghosts, witches and grumpy teenagers to prove once and for all who the REAL talent in the world of paranormal creatures is. If anyone can figure out what's going on in Grimbrook's most haunted house, it's him. And no one else. But with an evil curse looming over him and the house's inhabitants, can Mason finally prove to the Society of Peculiar Paranormal Phenomena that he's the best around? Or is he a bit out of his depth?
Writer: Seaerra Miller
Artist: Seaerra Miller
Published by Nobrow
ISBN-13: 978-1912497645