Shortlist Judges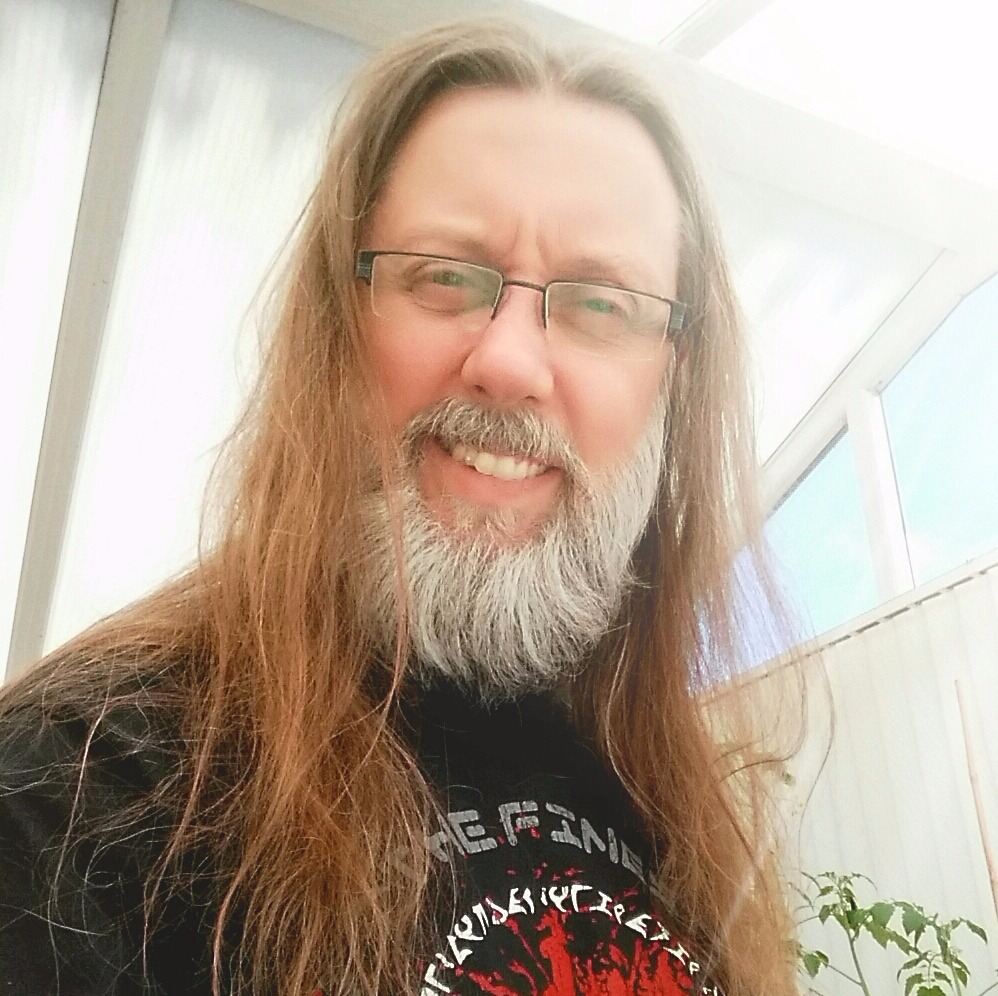 Paul Register (Chief Judge)
Educational Speaker/Trainer, Former School Librarian, Excelsior Awards Founder and Organiser
Paul was brought up on a steady diet of Marvel UK reprints, Whizzer & Chips and 2000AD as a young child in the '70s... for which he is eternally grateful to his mother. If she hadn't bought him those comics, you would probably not be reading this website right now! He has many happy comics-related childhood memories, such as writing a long Thor story (with illustrations) when he was 7; cutting out cardboard wings, a visor and 'X' belt buckles to turn his Star Wars action figures into X-Men; and drawing a Rogue Trooper-style biochip onto his schoolbag. Upon leaving school, Paul's first job was on a building site for which he earned the princely sum of £35 per week. For the first four weeks of his employment he took £10 of that every Saturday to the Sheffield Space Centre (his local comic book store) and bought all four volumes of Wendy and Richard Pini's Elfquest, an absolutely wonderful fantasy series that he still owns - in near-pristine condition - today. Comics and graphic novels have always been a big part of his life and nothing fills him with greater professional pride than sharing that joy and that experience with teenagers all over the country.
The best graphic novels he has read this year are Marvel's Secret Wars (by Jonathan Hickman and Esad Ribic), Captain America: White (by Jeph Loeb and Tim Sale) and You Can't Get There From Here (by Norwegian cartoonist Jason). Recent comics he has been enjoying have been Superman and Green Arrow from the new DC: Rebirth line and Marvel's The Vision and Sam Wilson: Captain America. His new favourite comics character is Superman, mainly because Kal-El now has a son and has to do super-parenting!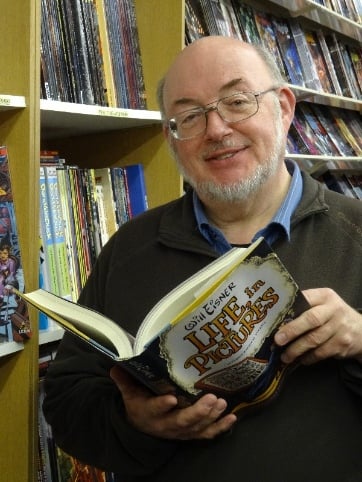 Dave Bromehead
Owner and Manager of Sheffield Space Centre
Dave is the owner and manager of Sheffield Space Centre Bookshop, one of the oldest comic and SF bookshops in the country (Established 1978). He started work as a chemistry teacher for a short time. During this time he was dealing part-time in back issue comics through mail order (no internet back then!) and at a few comic marts. This lead to selling new comics and then deciding to start up full-time in business. Over the years he has helped organise and run the first anime conventions ever held in the UK and a couple of the first Doctor Who conventions held in Sheffield back in the early '90s. Along the way he has helped give advice and promote lots of conventions, author and artist signings for various groups all over the UK. As a business, Sheffield Space Centre attends many of the major comic, anime and SF conventions and lots of smaller local events - as well as help and supply some libraries with SF books and graphic novels. They have attended and helped with the Excelsior Awards since the first event in 2011.
As a boy, Dave liked the British comics around at the time such as Valiant, Hotspur, TV 21 and many others. However, it was American comics from DC that became his favourites, with full colour stories featuring Superman, Superboy, Green Lantern, The Flash, Jimmy Olsen, Justice League of America, to name just a few. He got into Marvel comics a little later and loved the work of Stan Lee, Jack Kirby, Steve Ditko and too many more to list. He still loves and reads comics now (and still likes all the above comics, characters and creators). Today some of his favourite comics are Batman Rebirth, Black Panther, Doctor Strange, Paper Girls and Saga to name a few.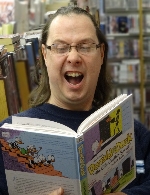 Rick Cowling
Sales assistant at Sheffield Space Centre
Rick grew up enjoying reading comics and watching lots of SF shows on TV like Thunderbirds, Doctor Who, Star Trek, Marine Boy and The Water Margin. After he left school, he had a few years of odd jobs (including cleaning the teeth on pirahnas!) before he started a part-time foundation course in Art & Design in 1987, with the hopes to go on to a full-time degree course and studied for over two years but after eight years as a customer at the Space Centre, he started working there instead. His enthusiasm and knowledge obviously helped! Since then he has helped organise the first dedicated anime conventions in the UK, given talks and written various articles on anime and manga and has even been interviewed on Radio One!
As he grew up, he used to read the usual fare available - The Beano, Dandy and Krazy comics. In the late '70s, a comic was published that completely changed what he thought about comics. That was 2000AD. Its stories and artwork were nothing like anything he'd ever seen before! It was an inspiration to read more and to try and learn to draw like that. When he discovered the Sheffield Space Centre, he discovered American comics too. His favourite comics this year so far are Badger, Ms. Marvel, Black Panther, The Unbeatable Squirrel Girl and Pencil Head. His favourite comics creators are Dave Gibbons, Massimo Bellardinelli, Howard Chaykin, Grant Morrison, Will Eisner, John Byrne and Paul Grist.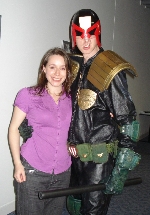 Lucy Forrester
Children's Librarian and Comics Specialist at Peters Bookselling Services
Lucy became a comics fan when she received a Beano annual for Christmas, aged 7, and has never looked back. A children's librarian and comics specialist at Peters Bookselling Services, Lucy takes every opportunity to discuss, promote and generally enthuse about comics. She has also worked as an assistant organiser for the epic Birmingham International Comic Shows and Launchpad comics events in her home town of Birmingham. Her favourite comics characters include Batman, Halo Jones, Judge Anderson and The Hulk, and favourite graphic novels read this year are Harley Quinn: Kiss Kiss Bang Stab (by Amanda Conner ad Jimmy Palmiotti), Mega Robo Bros. (by Neill Cameron) and Bird Boy, Volume 1 (by Anne Szabla).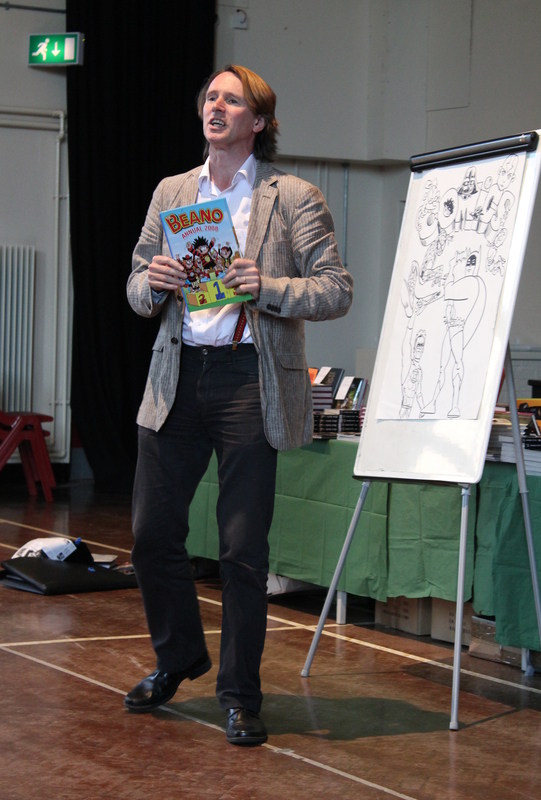 Kev F. Sutherland
Comedian and Comics Illustrator
Kev F has been writing, drawing, editing and publishing comics for over 25 years, first appearing in UK kids comic Oink in 1988. His funny strips have appeared everywhere from The Beano to Viz comic, and he's written and drawn for Doctor Who Magazine, Red Dwarf Smegazine, and Marvel comics, working on Doctor Strange, Star Trek and Werewolf By Night in the '90s. Kev F produced the Comic Festival in Bristol from 1999 to 2004, from which grew his now legendary Comic Art Masterclasses in which he has taught kids how easy it is to draw comics, everywhere from Scotland, England and Wales to Ireland, Norway and Abu Dhabi. In 2014 he'll be teaching comic art for a week in France, which should be interesting.
Favourite graphic novel read this year: Building Stories (by Chris Ware). Favourite comics character of all time: Howard The Duck.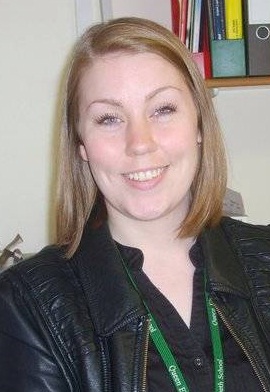 Gemma Sosnowsky
Librarian at Queen Elizabeth School, Kirkby Lonsdale, Cumbria
Gemma never considered herself a 'reader' during her teenage years, much to the dismay of several teachers and family members. She wasn't anti-books, but most conventional forms of reading just left her cold. In hindsight she realises she did herself a disservice, because she was an avid reader - an avid reader of the Uncanny X-Men! Growing up in a small Lakeland village in the 1990s made getting hold of comics quite difficult. She would stalk her local newsagent in order to get her hands on the only Marvel publication within a 30 mile radius. She learned a lot from the X-Men, for example Professor X and Magneto taught her elements of politics (which she later studied at university). 'Rogue and Gambit' were her 'Bela and Edward' (although infinitely cooler, of course), and Marvel lead her to discover other publications such as 2000AD. She neglected comics during her early twenties but, when she began work as a School Librarian in 2008, she realised how much she had missed them and how valuable they are.
Zack Overkill from Incognito (by Ed Brubaker and Sean Phillips) is her current favourite comic book character, and her favourite ongoing series is Harley Quinn (by Amanda Conner and Jimmy Palmiotti).