Excelsior Award White 2022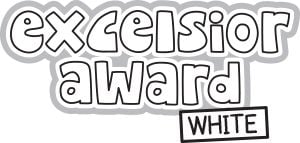 The books on the Excelsior Award White shortlst have been designated as suitable for children aged 9+ (or Key Stage 2 in schools)
Click on the book's title for extra information
Georgia has grown up loving stories of adventure - but she's never allowed to have one of her own. Her adopted father won't even let her leave the city of Angleston. So Georgia creates inventions with her donkey friend, Ponky, waiting for the day she'll finally be able to see the world outside. But then everything changes. A strange bottle washes up on the shore of Angleston, promising an adventure that Georgia can't resist. It will take her on a journey to the edge of the world...
Writer: Robin Boyden
Artist: Robin Boyden
Published by David Fickling Books
ISBN-13: 978-1788451796
After angering a number of hostile spirits in England, 13-year-old magician Johnny Constantine has to find a way out of the country. Persuading his parents to send him to America, John arrives at the Junior Success Boarding School in Salem, Massachusetts. But once there, he finds himself to be something of an outcast. And he is also convinced that his homeroom teacher really has it in for him. Worse, he's convinced that's she's really a witch. Fortunately, John is able to find one kindred spirit at school with whom he's able to form an alliance - another misfit named Anna, who also happens to have her own developing magical powers.
Writer: Ryan North
Artist: Derek Charm
Published by DC
ISBN-13: 978-1779501233
When Mole pops his head out of the ground one fine, spring morning, his friend Rat introduces him to the world of the riverbank and its most famous resident, the exuberant Mr. Toad. Mole soon finds himself caught up in Toad's mischievous exploits, culminating in a battle for Toad Hall itself.
Writer: Russel Punter (after Kenneth Grahame)
Artist: Xavier Bonet
Published by Usborne
ISBN-13: 978-1474968867