Excelsior Award Red 2022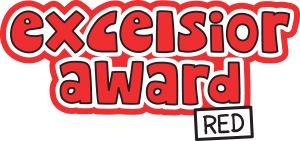 The books on the Excelsior Award Red shortlst have been designated as suitable for children aged 14+ (or Key Stage 4 in schools)
Click on the book's title for extra information
Dane Whitman rides again as the Black Knight, wielder of the magical Ebony Blade! But Dane bears the burden of the blade's curse: an insatiable lust for blood and mayhem that forever threatens to swallow its owner in darkness. Following the battle against the King in Black, a reinvigorated Dane has a renewed sense of purpose. But the Ebony Blade is the key to a new enemy's evil plan, and only Dane can prevent the coming death and destruction. The conflict - spanning from mythical Camelot to modern-day New York - will test Dane like never before and challenge everything he believes about himself, the Ebony Blade and the entire history of his lineage! What is the dread power of… the Ebony Chalice?
Writers: Simon Spurrier
Artist: Sergio Fernandez Davila
Published by Marvel
ISBN-13: 978-1302930219
For centuries, the demon Seere has prided himself on his work - granting the wishes of those he contracts with. Whether it's slaughtering their enemies or obtaining wealth beyond measure, anything is possible with his powerful magic. But Seere's latest summoner, Sakura Masuda, is unlike any he's dealt with before. Namely, she's only in fourth grade, and her wish is… for Seere to become her mama! Well, if that's what she desires, then that's what he will deliver - by becoming the greatest mama ever!
Writer: Kuzushiro
Artist: Kuzushiro
Published by Yen Press
ISBN-13: 978-1975320348
Never die... never win. What's the point of an eternal battle? For millions of years, one hundred Eternals have roamed the Earth, secret protectors of humanity. Without them, mankind would be smears between the teeth of the demon-like Deviants. Their war has waged for all time, echoing in our myths and nightmares. But today, the Eternals face something new: change! Can they - or anyone on Earth - survive their discovery? An Eternal has been murdered by one of their own, and this may not be the last such killing. But Sersi's number one suspect is... Thena?! Plus: Titans clash in a city driven mad as Ikaris battles Thanos!
Writer: Kieron Gillen
Artists: Esad Ribic
Published by Marvel
ISBN-13: 978-1302925475