Excelsior Award Black 2020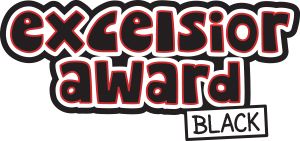 The books on the Excelsior Award Black shortlist have been designated as suitable for children aged 16+ (or Sixth Form in schools).
We are avoiding topics that could be considered "offensive" or "too adult" for a school library, but books on this shortlist may include moderate swearing and moderate violence, akin to a 15-rated movie.
Click on book's title for extra information
It is the year 1831. A gifted but distracted young man named Charles Darwin has been offered a place aboard the H.M.S. Beagle, in a chain of events that will change both his life and the course of modern science. This sweeping, intelligent and immersive graphic novel from award-winning duo Fabien Grolleau and Jeremie Royer joins legendary scientist Charles Darwin as he embarks on the voyage that began his career. Join him in a journey of thrilling discovery as he explores remote corners of the natural world and pieces together the very beginnings of his revolutionary theory of evolution.
Writer: Fabien Grolleau
Artist: Jeremie Royer
Published by Nobrow Press
ISBN-13: 978-1910620502
Scott Free is the greatest escape artist who ever lived. So great, he escaped Granny Goodness' gruesome orphanage and the dangers of Apokolips to travel across galaxies and set up a new life on Earth with his wife, Big Barda. Using the stage alter-ego of Mister Miracle, he has made quite a career for himself, showing off his acrobatic escape techniques. He even caught the attention of the Justice League, who has counted him among its ranks. You might say Scott Free has everything - so why isn't it enough? Mister Miracle has mastered every illusion, achieved every stunt, pulled off every trick - except one. He has never escaped death. Is it even possible? Our hero is going to have to kill himself if he wants to find out.
Writer: Tom King
Artist: Mitch Gerads
Published by DC Comics
ISBN-13: 978-1401283544
As a young child, Senri Nakajou saw his family murdered before his eyes, and he's lived for revenge ever since. From his daily activities to his studies, everything is about attaining the power and money necessary to find the killer and make him pay - even if it means getting a little dirty himself...
(Also known as Yume de Mita Anoko No Tameni from some book suppliers)
Writer: Kei Sanbe
Artist: Kei Sanbe
Published by Yen Press
ISBN-13: 978-1975328863
After the events of NO JUSTICE, Wonder Woman guides the misfit team of Justice League Dark against supernatural enemies too fantastic for even the regular Justice League. Plus, what awful things are coming through the Tree of Wonder? Dark days lie ahead...
Writer: James Tynion IV
Artist: Alvaro Martinez
Published by DC Comics
ISBN-13: 978-1401288112
Saudi Arabia offers few prospects for the bright young Mohammed El-Gharani. With roots in Chad, Mohammed is treated like a second-class citizen. His access to healthcare and education are restricted; nor can he make the most of his entrepreneurial spirit. At the age of 14, having scraped together some money as a street trader, Mohammed seizes an opportunity to study in Pakistan. One Friday in Karachi, Mohammed is detained during a raid on his local mosque. After being beaten and interrogated, he is sold to the American government by Pakistani forces as a member of Al-Qaida with links to Osama Bin Laden. Mohammed has heard of neither. Under the custody of the US Army, he is flown first to Kandahar and then to Guantánamo Bay...
Writer: Jérôme Tubiana
Artist: Alexandre Franc
Published by SelfMadeHero
ISBN-13: 978-1910593660