Excelsior Award Black 2021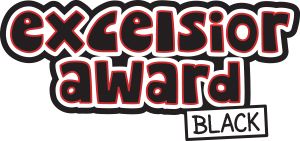 The books on the Excelsior Award Black shortlist have been designated as suitable for children aged 16+ (or Sixth Form in schools).
We are avoiding topics that could be considered "offensive" or "too adult" for a school library, but books on this shortlist may include moderate swearing and moderate violence, akin to a 15-rated movie.
Click on book's title for extra information
Max Winters, a pulp writer in 1930s New York, finds himself drawn into a story not unlike the tales he churns out at five cents a word - tales of a Wild West outlaw dispensing justice with a six-gun. But will Max be able to do the same when pursued by bank robbers, Nazi spies, and enemies from his past?

One part thriller, one part meditation on a life of violence, Pulp is unlike anything award-winning Ed Brubaker and Sean Phillips have ever done before. This celebration of pulp fiction set in a world on the brink is another must-have hardcover from one of comics' most acclaimed teams.
Writer: Ed Brubaker
Artist: Sean Phillips
Published by Image Comics
ISBN-13: 978-1534316447
Three teenagers, each an outcast in their own ways, stumble upon an unearthly entity as it's born. As they bond over this shared secret and the incredible abilities of their new discovery, the trio soon realises the truth: this creature is dangerous, powerful... and in need of prey. Guided by the best intentions at first, the teens' decisions soon become corrupted by adolescent desires, small town jealousies, and internal rivalries, sending them into a catastrophic spiral of their own making.
Writer: Simon Spurrier
Artist: Chris Wildgoose
Published by Boom! Studios
ISBN-13: 978-1684155279
A humorous and heartfelt autobiographical comic essay of a manga artist new to the challenges of motherhood! Follow her journey as she learns the ins and outs of pregnancy and childbirth - and the impossibility of finding comfy maternity underwear!
Writer: Ayami Kazama
Artist: Ayami Kazama
Published by Yen Press
ISBN-13: 978-1975333058