Excelsior Award Black 2019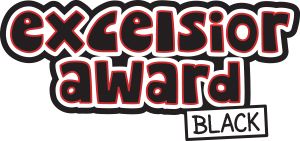 The books on the Excelsior Award Black shortlist have been designated as suitable for children aged 16+ (or Sixth Form in schools).
We are avoiding topics that could be considered "offensive" or "too adult" for a school library, but books on this shortlist may include moderate swearing and moderate violence, akin to a 15-rated movie.
Click on book's title for extra information
A page-turning thriller of racial divide, Incognegro: Renaissance explores segregation, secrets and self-image as our race-bending protagonist penetrates a world where he feels stranger than ever before.
When a black writer is found dead at a scandalous interracial party in 1920s New York, Harlem's cub reporter Zane Pinchback is the only one determined to solve the murder. Zane must go "incognegro" for the first time, using his light appearance to pass as a white man to find the true killer, in this prequel miniseries to the critically acclaimed Vertigo graphic novel Incognegro.
Writer: Mat Johnson
Artist: Warren Pleece
Published by Dark Horse
ISBN-13: 978-1506705637
With World War II raging, Hellboy's future guardian Trevor Bruttenholm enlists with Britain's Military Intelligence, where he uncovers a collection of strange messages. Believing it to be an occult language, he follows his hunch and is thrown into a world of animated corpses, deadly mystics, and Nazi agents. The treacherous journey leads him face to face with the man who will bring Hellboy to Earth - Rasputin!
Writer: Mike Mignola and Chris Roberson
Artist: Christopher Mitten
Published by Dark Horse
ISBN-13: 978-1506704982
This dual-narrative story set in the world of the Eisner-award winning Black Hammer series chronicles the legacy of a Golden Age superhero.
An aged crime fighter desperately wants to reconnect with his estranged son, who he hoped would one day take the mantle of Doctor Star. Over the course of the story we learn his origin, how he got his powers, his exciting astral adventures, the formation of some of Black Hammer's greatest heroes, and more in this heartbreaking superhero tale about fathers and sons.
Writer: Jeff Lemire
Artist: Max Fiumara
Published by Dark Horse
ISBN-13: 978-1506706597
High schooler Hajime Tsukiyoda went to Shibuya that day hoping only to find inspiration for his next film. He never expected to find himself smack-dab in the middle of a real-life horror movie. Without warning, schools of massive goldfish descend upon the crowded streets, and the mystified onlookers' confusion quickly turns to terror as the fish begin to feed.
Writer: Hiroumi Aoi
Artist: Hiroumi Aoi
Published by Yen Press
ISBN-13: 978-1975327446
Bond is assigned to hunt down and eliminate Kraken, a radical anti-capitalist who has targeted Britain's newly-upgraded nuclear arsenal. But all is not as it seems. Hidden forces are plotting to rebuild the faded glory of the once-mighty British Empire, and retake by force what was consigned to history. 007 is a cog in their deadly machine - but is he an agent of change, or an agent of the status quo? Loyalties will be broken, allegiances challenged. But in an ever-changing world, there's one man you can rely on: Bond. James Bond.
Writer: Andy Diggle
Artist: Luca Casalanguida
Published by Dynamite
ISBN-13: 978-1524107130